Gold Mining Companies Are Running Out of Gold: Five Must See Charts
'Peak gold' – World's gold production to peak in 2019 and decline
Gold found by miners has plunged 85% over past decade

Gold mining CEOs turning to deals to combat dwindling reserves

Exploration more difficult and firms have cut capex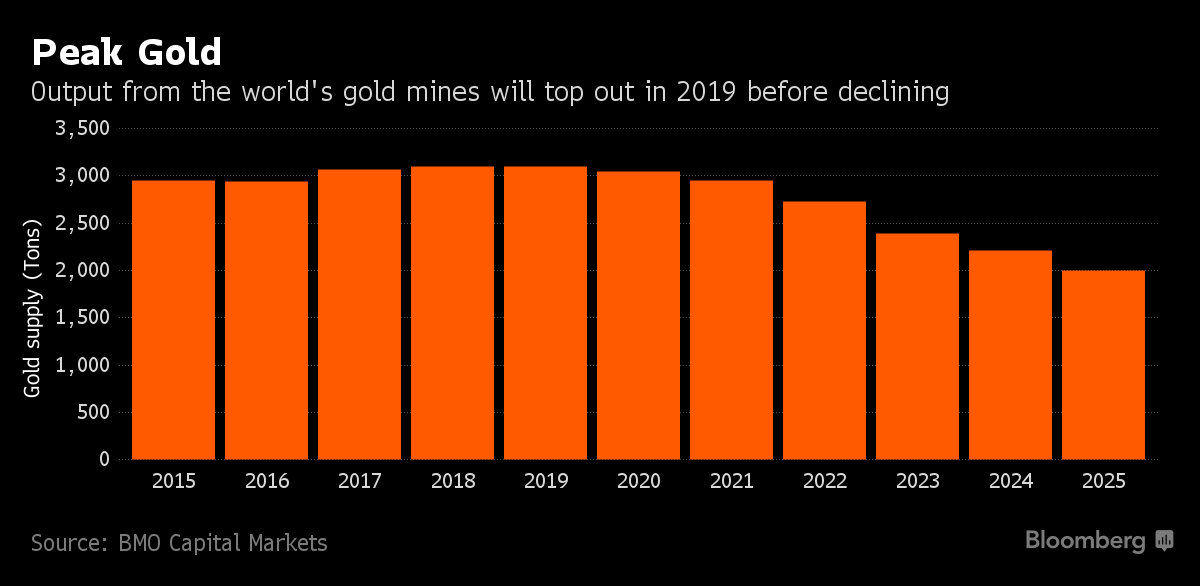 The reality of peak gold production has recently been acknowledged by Bloomberg and some of the financial media. Yet the mainstream, non specialist financial media has yet to cover this important topic with obvious ramifications for the gold market and the gold price in the medium and long term.
Peak gold production is happening globally which is very positive for gold and gold mining shares. Bloomberg have again covered this important fundamental factor in the market and have done so with an article and five must see gold charts:
"Gold's had a roller-coaster year, surging as much as 30 percent before giving up the bulk of those gains. But one trend has been consistent: mining companies are finding it harder to dig up more of the precious metal.

The following charts show why, and what that means for the industry:"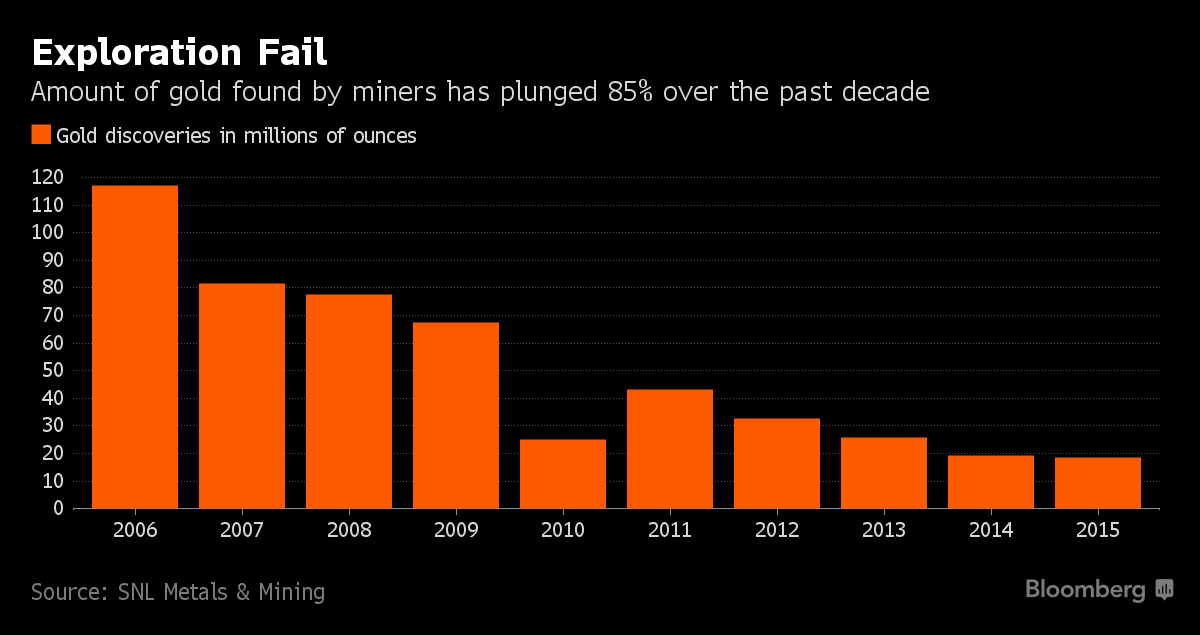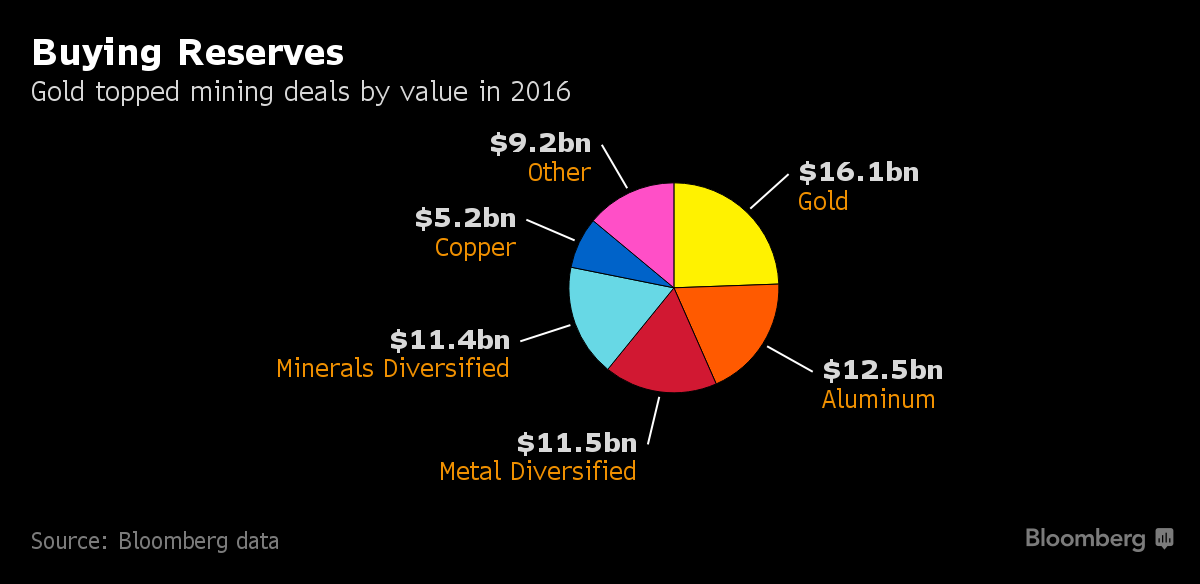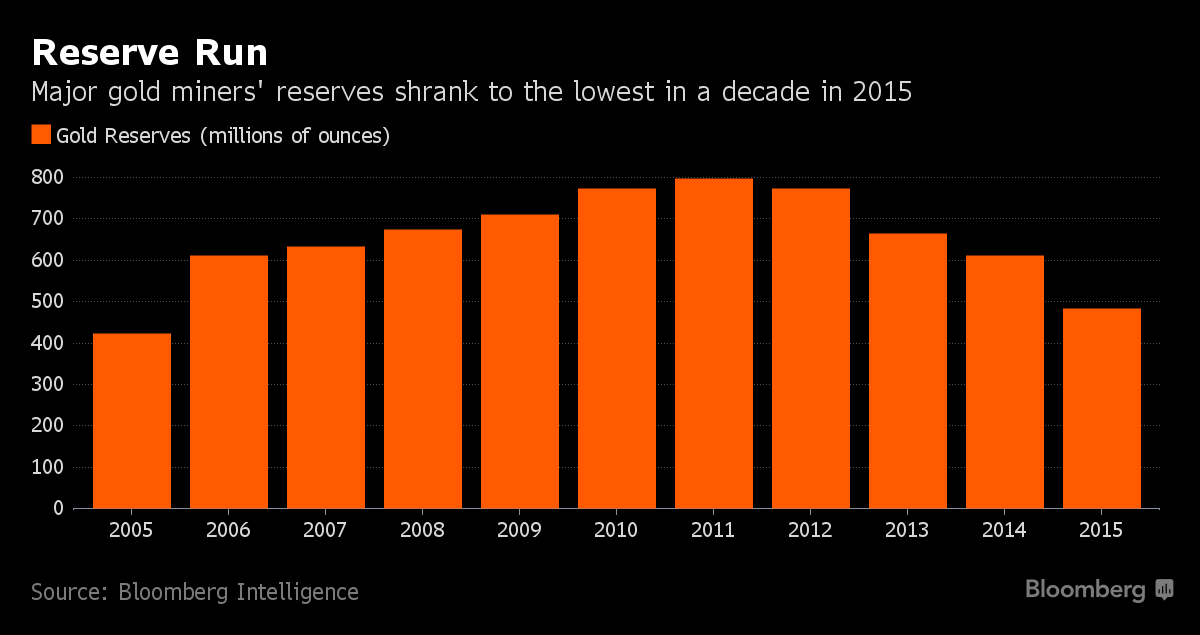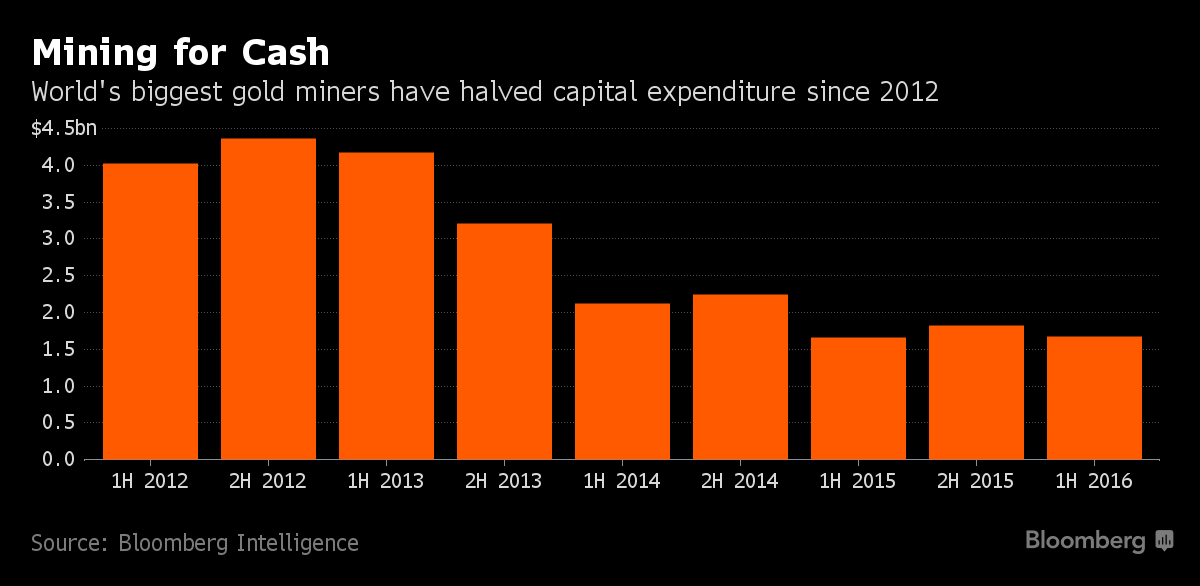 We first covered the peak gold phenomenon back in 2007 and 2008 (see here) and have considered peak gold frequently over the years. 'Peak Gold' is happening which has important ramifications for the gold market and is a long term positive for the market which will support prices and should lead to higher prices.

Read full article on Bloomberg here
Gold and Silver Bullion – News and Commentary
Gold heading for 7th weekly loss on 2017 rate hike views (BusinessTimes.com)
Asian stocks slip ahead of holiday weekend (MarketWatch.com)
Gold prices ease as traders focus on rate hikes (Reuters.com)
Mortgage rates soar to 2 1/2-year high, Freddie Mac says (MarketWatch.com)
This Store Is Selling Gold-Plated Trump iPhones for $151,000 (Fortune.com)
Strongest Gold "Buy" Signal In 16 Years (TheDailyCoin.org)
China tries to talk dollar down, saying market is 'too optimistic' about Trump (SCMP.com)
Casey Warns "We're Going To Have Financial Chaos… It's A Dangerous Situation" (ZeroHedge.com)
As the year ends, we say farewell to yet another bank (MoneyWeek.com)
The unravelling of globalisation (MoneyWeek.com)
Gold Prices (LBMA AM)
23 Dec: USD 1,131.00, GBP 921.99 & EUR 1,082.25 per ounce
22 Dec: USD 1,130.55, GBP 916.20 & EUR 1,080.47 per ounce
21 Dec: USD 1,134.40, GBP 919.20 & EUR 1,091.07 per ounce
20 Dec: USD 1,132.75, GBP 915.94 & EUR 1,090.84 per ounce
19 Dec: USD 1,137.60, GBP 913.15 & EUR 1,089.14 per ounce
16 Dec: USD 1,134.85, GBP 911.17 & EUR 1,084.80 per ounce
15 Dec: USD 1,132.45, GBP 904.37 & EUR 1,080.70 per ounce
Silver Prices (LBMA)
23 Dec: USD 15.74, GBP 12.85 & EUR 15.06 per ounce
22 Dec: USD 15.77, GBP 12.78 & EUR 15.10 per ounce
21 Dec: USD 16.03, GBP 12.96 & EUR 15.40 per ounce
20 Dec: USD 15.80, GBP 12.80 & EUR 15.22 per ounce
19 Dec: USD 16.00, GBP 12.89 & EUR 15.34 per ounce
16 Dec: USD 16.05, GBP 12.91 & EUR 15.36 per ounce
15 Dec: USD 16.14, GBP 12.95 & EUR 15.51 per ounce

Recent Market Updates
– Royal Mint And CME Make A Mint On The Blockchain?
– China Gold and Precious Metals Summit 2016 – GoldCore Presentation
– Trumpenstein ! Who Created Him and Why?
– Bail-Ins Coming? World's Oldest Bank "Survival Rests On Savers"
– Fed's "Fool Me…", Silver Suppression, Euro Contagion In 2017?
– Fed Raised Rates 0.25% – Rising Rates Positive For Gold
– Shariah Gold Standard Is "Revolutionary" – Mobius
– Silver Fixing By Banks Proven In Traders Chats
– Euro Crisis and Contagion Coming In 2017
– ECB 'Bazooka' Reloaded Until At Least December 2017 – Euro Gold Rises 1%; 13% YTD
– UK £6 Billion Worse Off After Multi Billion Pound Gold "Accounting Error"
– Buy Silver – May Replace Gold As Money In India
– Shariah Gold Standard Approved for $2 Trillion Islamic Finance Market
The post Peak Gold Cometh – Five Must See Gold Charts appeared first on crude-oil.top.
Continue reading »